Sub-Zero Freezer & Refrigerator Repair

Sub-Zero Appliance Repair in La Canada Flintridge
When it comes to adding value to your home, "top of the line" appliances fit the bill perfectly. The home's living spaces are considered the hub for entertainment, but the kitchen is the heart of the entire dwelling. Why? The kitchen area is where individuals prepare hearty meals, converse with one another, and it gives you a more serene area to be creative. Have you ever heard of "Sub-Zero" appliances. These are some of the most in-demand and high quality products. The brand has been around for over 70 years, and it has built a reputable resume of success.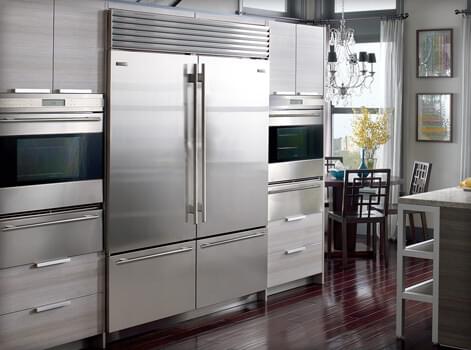 Sub-Zero freezer and refrigerators are some of the most sought after appliances in the world thanks to their remarkable qualities. These qualities include the ability to keep foods fresh for longer periods of time, they're constructed from the sturdiest of material, and they provide precise cooking instruments, which creates some of the best tasting foods. Even though they're supremely high quality products, repairs may be needed just like any other brand of appliance. For the very best in service repairs, there is one place that gets the job done right each and every time. Service Masters Appliance is the premier service provider especially when it comes to Sub-Zero appliances. Our company has been around for years, and we have served a huge statistical area that includes South Pasadena, La Canada Flintridge, San Gabriel Valley, Altadena, and many more.
Here at Service Masters Appliance, we can get your Sub-Zero refrigerator or freezer up and running on all cylinders. Our customers come first, and we demonstrate this best by offering 24/7 repair service including weekends. Honestly, you won't find another progressive thinking and acting repair company in the area that are willing to do what we do. Service Masters Appliance stand out even more because of our highly trained technicians. There is no guesswork involved here as we are a fully licensed company that has many satisfied clients and customers of all ages.