Sub-Zero Freezer & Refrigerator Repair

Sub-Zero Appliance Repair in Pasadena
Imagine you just purchased several pounds of high quality sushi quality fish that you had planned to freeze in your Sub-Zero freezer. Now imagine you open the door, and your freezer is horrifyingly at room temperature. The fish you bought are already starting to thaw, and you had invested several hundred dollars in that order. What on earth can you do? Who can you call? Perhaps its' your refrigerator that just broke, and you have three gallons of milk already starting to waste. These types of scenarios happen way more frequently than we would all like to imagine, and the solutions can be complicated. Do you have the technical knowledge to fix these complex machines, and do it quick enough to prevent spoilage? The answer is probably not, but the quick and efficient experts at Service Masters Appliance in Pasadena, California do. We pride ourselves in being knowledgeable professionals who are dedicated to getting your Sub-Zero appliances fixed fast. Just like you trust other appliances to professionals; trust your freezer and refrigerator with us. Our licensed technicians are factory trained to diagnose and fix both the typical and unusual problems that your appliances might encounter during a duty lifetime.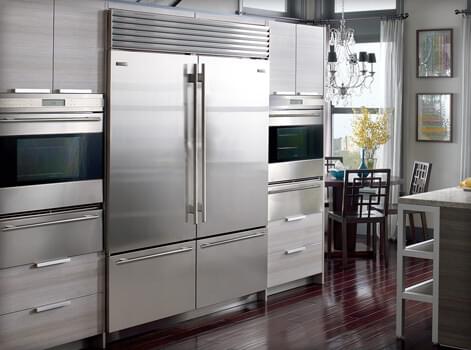 Take a look at some of the common symptoms that you could encounter with your Sub-Zero freezer and refrigerator.
1. Appliance isn't making cycling noises, has unusual noises or is inconsistently cycling during the day.
2. Cooling in the appliance has lessened or stopped altogether.
3. Inability to maintain a set temperature in the appliance.
4. Water collecting in the appliance or leaking on the floor near the unit.
5. The appliance stops making ice or is making too little.
6. Popping or clicking noises that are new.
When you experience any of the symptoms we listed above, please make sure to give Service Masters Appliance in Pasadena a call. Cleaning and fixing a newer problem can be much easier, and less expensive than letting it slowly destroy your expensive investment. Remember, our factory-trained technicians can also perform routine maintenance on your Sub-Zero appliances that will keep them running consistently cool and problem free for years to come. Call us for Sub-Zero appliance repair at 626-381-9899.