Sub-Zero Freezer & Refrigerator Repair

Sub-zero Refrigerator Repair Santa Clarita, Valnecia
We are experts in repairing sub zero refrigerators, call now.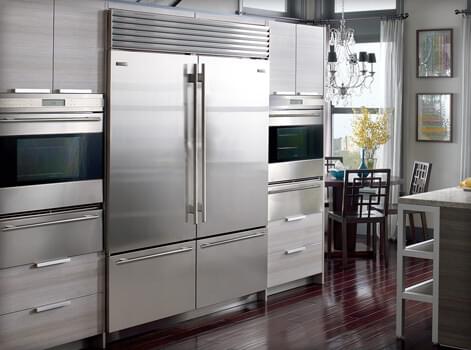 Did your Sub Zero Refrigerator go wrong? Are you looking for a repair service? Look No further!
Typically, many people like to assume that because the Sub-Zero manufacturer is well-crafted, that they can just practically disregard the product and never have to worry about repairing it. We believe that your appliances will last an incredibly long time, but only if they're properly maintained. Since the equipment ages, it's going to require more interest from you. What's promising is that our team has the proper tools, equipment and resources to restore and help you to maintain your Subzero devices in ideal working order to last essentially for a very long time.
In addition, to providing you with top of the line service repairs, we're also pleased to assist you in properly keeping your Sub-Zero devices up-to-date by making sure that your refrigerator remains in great condition.
When you contact us about Sub Zero Refrigerator repair, you'll be capable of relaxing and realizing that your appliance will soon be in excellent hands. You should also realize that you're receiving the best repair service in the Santa Clarita and Valencia area. We've worked hard to give our customers the best price in town we've accomplished a great service by offering our discounts to you.
Having an awesome repair team is the greatest part of having the ability to supply top quality Sub Zero repair. Our parts that we use for each repair is just as important, and that's why we only use the latest parts and equipment. By sticking with up to date parts we are able to confidently promise our repairs for five years.
The sooner you contact us, the sooner you'll experience great benefits and advantages of our Sub Zero Refrigerator repair company.
Contact us Today!
Cities We Service: Valencia, Santa Clarita, Newhall Ranch, Sand Canyon, Stevenson Ranch, Saugus, and the areas surrounding
Zip Codes: 91382, 91351, 91384, 91354, 91383, 91390, 91355, 91386, 91321, 91350, 92380, 91381, 91310, 91387, 91380, 91385
Contact Us:
Phone: (818) 853-9954
Phone: (888) 657-1763
Business Hours:
Monday – Friday 7AM – 7PM
Saturday 7AM – 3PM
Sunday 7AM – 3PM