Sub-Zero Freezer & Refrigerator Repair

Sub-zero Appliance Repair in Brentwood 90049
Living in Brentwood, you are used to having the best of everything, and for good reason. You worked hard for success and now you are enjoying the fruits of that labor. You have good cars, nice homes, and a comfortable life. You like to wear the highest quality clothing, buy the freshest groceries, and hire the best service professionals. In your home, you want the best furnishing, the best electronic, and the best appliances, including your refrigerator, that's why you chose a premium quality name like Sub Zero when it came time to select the refrigerator for your kitchen. Sub Zero is a brand that you can trust. They are known for having the best refrigerator on the market, with innovative designs and reliable quality that have put them at the front of their field.
Subzero Maintenance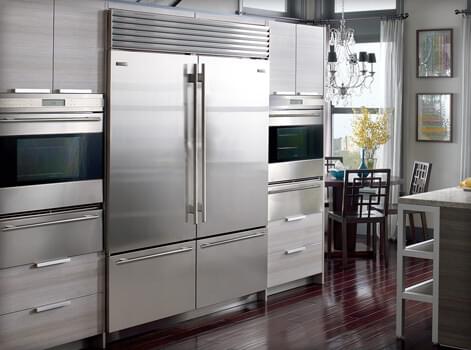 You chose a Sub Zero refrigerator because you knew that it reliable, dependable, and built to last. The unique features and award-winning design were a perfect fit for your home and your family's lifestyle. The roomy interiors, cutting-edge design, and top grade construction was just the thing that you were looking for. As with all other things of quality, the brand sold itself, and you didn't think twice about buying it. You knew that the price was worth it, with things of distinction it always is.
Of course, as with anything, maintenance and repair are an unavoidable part of life. No matter how good something is, there will come a time when it will need to be serviced. Washers stop spinning, air conditioning units stop working, and refrigerators stop cooling, even ones as great as Sub Zero. When that time comes, you need a qualified service and repair technician who has the experience and know how to repair your premium level appliances with genuine parts and certified training. If your Sub Zero refrigerator is not working like it should then it's time to call in an expert on Sub Zero refrigerator repair, it's time to call in Service Masters Appliance Repair Experts.
There are a lot of reasons why your Sub Zero refrigerator isn't working right. Despite their appearance refrigerators, especially ones as advanced as those produced by Sub Zero, are highly complex machines. There are many things that can go wrong, including the refrigerator not cooling, door seals not holding tight, ice makers not working, dispensers not dispensing product properly, or even damage to interior components such as shelves or bins. No matter what the failing of the unit is, you need to get it working quickly, and you want to ensure that your high-value investment appliance is repaired back to it's factory new condition.
The difference between Service Masters and other repair companies is clear when you take a look at how we do business. First, we are a family owned business and have been since the start. For more than 20 years we have strived to provide top notch service to you our valued customers. We believe that you are the number one priority, after all without you, we have no business. We know that you want only the best and that you are relying on us to provide you with the service that your premium quality appliances need. Anyone can be called upon to repair an economy or even mid-range appliance, but when it comes to properly repairs a high-quality premium item like a Sub Zero refrigerator, you need someone who knows the ins and outs of every model that is in the market, and how to service them properly and according to the original design specification. We know Sub Zero and can service it right.
Our friendly and caring technicians are certified to work on all major brands including Sub Zero, for which we are certified in the repair of. They are skilled and have the experience that is needed to make sure that your Sub Zero refrigerator is not just repaired, but that it is done fast, and done right the first time. They are committed to providing a repair that lasts to save you headaches and money in the future. All technicians are licensed and Sub Zero factory trained. They also will repair your appliances with only genuine Sub-Zero original equipment manufacturer parts to comply with your original warranty. This helps to protect you should you ever need to call upon your warranty for a significant product issue. Other repair services will use third party parts and charge you for OEM thinking that you will never know the difference. That's not how we do business. We use only true OEM and certified replacement parts for all of our repairs and we never overcharge you for the value of the parts that are used. It's the right way to treat people and it's the right way to do business.
We also believe in only performing the maintenance that you need and that is agreed upon in your estimate prior to the start of work. Our technicians will never try to force you to get a service that you do not need or want. If there are additional services that our techs see could be beneficial to you, they will happily point them out and explain them in clear language and let you decide. It's the right way to do it, and it's the only way we do it.
Our service team members will respect your home, your privacy, and you. All of our repairs, including Sub Zero refrigerator repair, are covered by our 100% satisfaction guarantee with our own warranty on the repairs that we have performed. Our services are screened and approved by both HomeAdvisor and Angie's List. We love to brag about our five-star reputation on Yelp as well, we worked hard to earn it and we would love to show you why it's deserved. All of our repairs are compliant with mainstream engineering certification as set forth by the EPA, and we are certified under the HVAC/R PM TECH program. What this all means is that when you allow us to perform your appliance repair you can rest easy knowing that the work was done by skilled technicians who care about you and love what they do. That makes a difference and it's a difference that you and your family deserve.
When it comes to Sub Zero refrigerator repair in Brentwood and the greater 90049 area, why waste time and money on just anyone. We are certified to handle your repair properly and have the experience of 20 years behind us to ensure we leave you 100 satisfied. We service the greater Los Angeles area including San Fernando Valley – Santa Clarita, Valencia, West Los Angeles, and Simi Valley. Give us a call at 310-477-0670 and let us show you what makes us different that the rest. For same day service, you can also call (888) 657-1763. We also a free service call if we complete the repair for you. You expect the best of everything, let us show you that we are the best when it comes to appliance repair. We service all categories of appliances in addition to refrigerators. Everything from washers and dryers to freezers, ranges, and furnaces. We care your one call to make for every appliance in your home when you are I need of repair. Our technicians love to develop a strong relationship with their clients so that when anything in your home isn't working right, you know that you have a reliable person to call upon to make it right. We are here to help & are driven by excellence. Call us today.
Contact Us:
Phone: (310) 477-0670
Phone: (888) 657-1763
Business Hours:
Monday – Friday 7AM – 7PM
Saturday 7AM – 3PM
Sunday 7AM – 3PM