Sub-Zero Freezer & Refrigerator Repair

Sub-zero Refrigerator Repair West Los Angeles
Your Sub-Zero refrigerator/freezer is an important appliance in your household. It is able to keep your food fresh and available to you so that you can prepare meals for you and your family. When these appliances break down or stop functioning properly this could cause your family to become inconvenienced and possibly waste food. Instead of shelling out extra money to eat out every day or to buy new groceries contact Service Masters Appliance immediately.
Subzero Maintenance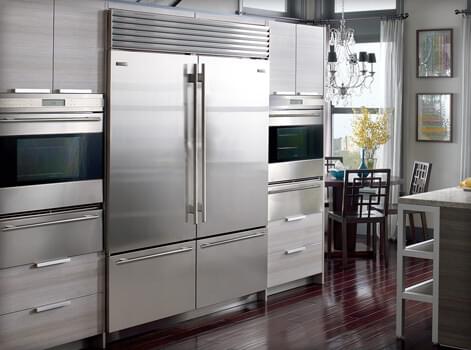 A broken freezer/refrigerator can cause your food to melt and spoil. Don't let this happen to you. Allow your family to save money by contacting us as soon as your refrigerator/freezer stops functioning properly. Our technicians will be happy to show up to your home to get your refrigerator/freezer back working properly.
Hiring Service Masters Appliance can help to get you back in the kitchen preparing healthy meals for your family. Our highly skilled technicians will be able to diagnose the problem with your freezer/refrigerator and repair it in a timely manner. Don't worry about paying high labor costs for a technician that wastes time. All of our technicians work in a productive manner so that he or she will be able to effectively and efficiently repair your fridge.
So instead of trusting one of the most important appliances in your home to a novice, contact Service Masters Appliance today to so that your family can continue to enjoy nutritious and home cooked meals. Service Masters Appliance is able to service customers in Santa Monica, Brentwood, Beverly Hills, Bel Air, Sunset Plaza, Pacific Palisades, Westwood, Mar Vista, Culver City, Venice, Marina Del Rey, Playa Del Rey, and surrounding areas of West La.
Contact Us:
Phone: (310) 477-0670
Phone: (888) 657-1763
Business Hours:
Monday – Friday 7AM – 7PM
Saturday 7AM – 3PM
Sunday 7AM – 3PM