Sub-Zero Freezer & Refrigerator Repair

Sub-zero Appliance Repair in 90077 (Bel Air)
Our professional Sub-Zero refrigerator repair experts are there to service our clients in Bel Air with a high level of customer service excellence and affordable prices to meet the demands of any budget. At Service Masters Appliance, we provided highly trained and certified technicians, able to immediately respond to Bel Air including the 90070 zip code with over 25+ years of expertise in sub-zero refrigeration. We have experience in maintenance and warranty repairs unmatched by any of our local area competitors. We make repairing your refrigerator an easy job, no matter how big or how small with as little as a phone call. Our technicians are ready to repair your residential or Sub Zero commercial refrigerator for less.
Subzero Maintenance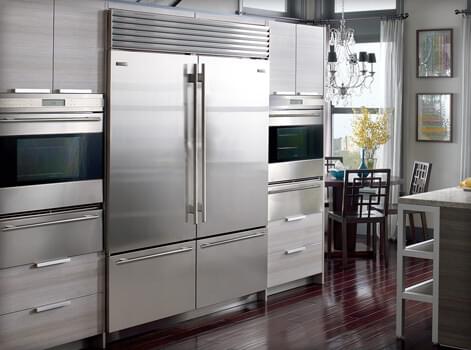 Service Masters Appliance Refrigerator Repair Services
– Licensed/Bonded
– Same Day Repair
– Emergency Services
– Factory Certified Technicians
– Troubleshooting
– Walk-in Refrigeration
– Commercial Freezers
– Scheduled Services
and more…
Our factory trained professionals are here to service all of your major cooling appliances. We are your one stop shop for expert refrigeration, maintenance, and repair issues. Their express mission is durability and efficiency in an effort to provide our clients with superior professional services.
We provide materials that are eco-friendly, durable on the environment and promotes renewable energy. Our professionals ensure that the materials and equipment that we use are safe to use around your family, pets, employees, and customers. Get quality services that will ensure the longevity of your refrigeration system.
Signs Your Refrigeration Is On The Brink
– Malfunctioning ice maker
– Smelly ice or not freezing properly
– Ice is dirty
– Leaks
– Refrigeration is no longer cooling
and much more…
However, our clients are immediately told that a malfunction doesn't always mean an appliance needs to be replaced. Most refrigeration systems can be repaired providing cost effective services and environmental friendly repairs. Rest assured you get prompt service from a factory certified professional every time with a guarantee that our customers are back up and running quickly. Sub-zero refrigeration repair can be a very complex service that requires expert care services from SMA.
Call Service Masters Appliance today at (310) 477-0670 or schedule a service call online through their easy to read and navigate website. Our friendly team of professionals are standing by waiting for your call.
Contact Us:
Phone: (310) 477-0670
Phone: (888) 657-1763
Business Hours:
Monday – Friday 7AM – 7PM
Saturday 7AM – 3PM
Sunday 7AM – 3PM