Sub-Zero Freezer & Refrigerator Repair

Sub-zero Appliance Repair in Beverly Hills
Trust Service Masters for any Sub-Zero Refrigerator in Beverly Hills, 90210. We are the most-trusted appliance repair for all your refrigerator or freezer needs. Our expert technicians are licensed and certified to provide refrigerator repair. They are also highly trained, and guaranteed to repair and fix and take care of any refrigerator request or maintenance service that you may need. We can diagnose any problems like- strange noises, light bulb issues, leaks, and if the refrigerator stops. At Sub-Zero, we will keep your refrigerator, in top condition, and also provide preventative maintenance for you, to avoid future problems.
Subzero Maintenance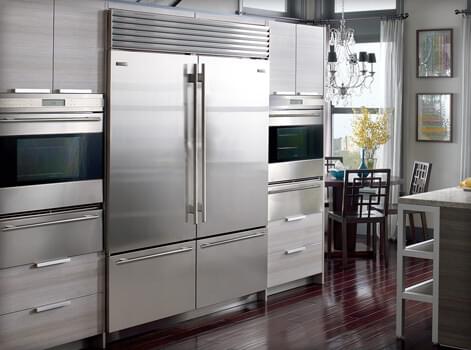 Service Masters Appliance, provides the following services:
* Repair service
* Preventative Maintenance
* Door gasket repair
* Leaks
* Water dispenser repair
* Ice dispenser repair
* Light bulb repair
* Noises
* Running cold repair
* Not running repair
* Sealed System service
* Tune-ups
Whether your refrigerator is old or new, make an appointment with Sub-Zero, to get take away any stresses of keeping your foods and drinks cold. Our expert technicians, will come right to you, to provide an affordable estimate to fit any budget. No matter whether it's a mall job or a big one, Service Masters Appliance, have a team of skilled technicians, that can diagnose any refrigerator or freezer malfunctions.
Many refrigerator repair problems, stems from lack of maintenance service or a defective issue. When ice cream does not freeze, milk goes sour, or puddings become soft, there is a refrigerator problem. These are some of the commonly problems, that occurs when you own a refrigerator. We also suggest an annual refrigerator maintenance plan, that will help keep your appliance, running well throughout the year.
We are committed to providing you with genuine service and we have quality maintenance plans, for your refrigerator, wine cooler, or freezer. our advanced tools, and equipment can fix or diagnose, any repair that is requested in a short time. Our customers are very important to us, because we care.
Let Service Master Appliance certified technicians, who are best known for fair pricing and repair service, fix your problem or call us to schedule an annual maintenance diagnose. Rest assure, that we are experts at refrigerator repairs.
Contact Us:
Phone: (310) 477-0670
Phone: (888) 657-1763
Business Hours:
Monday – Friday 7AM – 7PM
Saturday 7AM – 3PM
Sunday 7AM – 3PM