Sub-Zero Freezer & Refrigerator Repair

Sub-zero Appliance Repair in Santa Monica
Did you know that your refrigerator is considered a Sub-Zero appliance? Your Sub-zero appliance is very important to your quality of life. Just think what would happen if those needed repairs causing your refrigerator to shut down altogether. Don't let that happen to you instead call us for Sub-Zero refrigerator repair in Santa Monica. We service in the Santa Monica area at these zip codes: 90402, 90403, 90404, 90405, 90406, 90407, 90408, 90409, 90410, 90411. Call us at 310-477-0670 to set up an appointment for the finest repairmen in refrigeration to quickly and efficiently fix all of your Sub-Zero Refrigerator Repair jobs. Your Sub-Zero Refrigerator Repair jobs are our reason for being in business at Service Masters Appliance Company.
Subzero Maintenance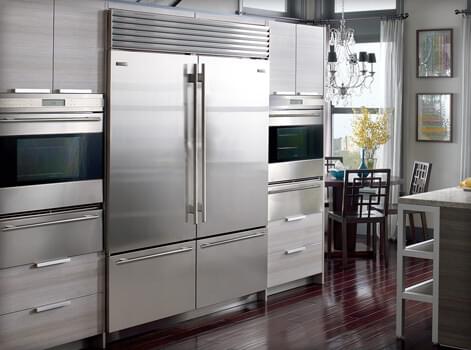 At Service Masters Appliance, we take pride in our work. Our trained staff of professional repair men will satisfactorily repair your appliance at a cost that will also be in keeping with your budget. The facts are that replacing your appliance is a very expensive proposition. Your appliance can be repaired to continue giving you the service that you need for a healthy and stress free living style. There is no dispute of the importance of the appliances that we service. That is the reason that we take our work seriously and respond to your requests quickly. Take the time to call us at the first sign of a break in service from your appliance. Letting repairs idle can be more costly for you than getting them done at the first sign of needed repair work.
We would be happy to discuss your repair problems and offer solutions by phone. You are very important to us as a customer, and we will do our best to keep you as a repeat customer. We are a friendly service oriented company that hires friendly and efficient staff. Your call to us will be treated with the courtesy it deserves whether you are calling to set up an appointment or to discuss your refrigeration needs. The call you make can save you time and money as well as lessen your stress caused by a broken necessary appliance. We are hear for your repair needs and we value your time as well as your business.
Contact Us:
Phone: (310) 477-0670
Phone: (888) 657-1763
Business Hours:
Monday – Friday 7AM – 7PM
Saturday 7AM – 3PM
Sunday 7AM – 3PM