Sub-Zero Freezer & Refrigerator Repair

Sub-zero Appliance Repair in 90292, 90293
Day in and day out Sub-Zero refrigerators have become one of the most used appliances in the commercial cooking industry. Faithfully keeping our food fresh and ready to use, it often comes as a surprise when it goes off kilter. Refrigerator repair can quickly become complicated.
Subzero Maintenance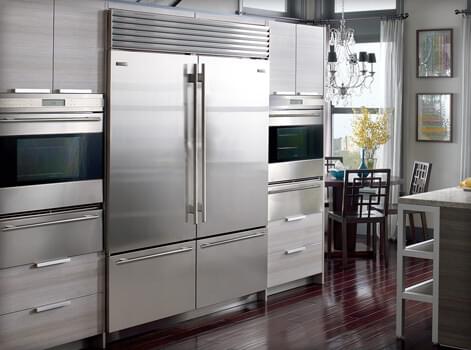 Who to Call
When the refrigerator has funny sounds, or does not cool food properly that becomes the time to call in Sub Zero refrigerator repair technicians. Living in Mar Vista & Culver City in the zip code areas of 90066 and 90230, you have the phenomenal Sub-Zero Service Masters Appliance technicians to depend on. Certified and licensed they can diagnose a refrigerator issue quickly and cost effectively. A quick call to the phone number 310-477-0670 and a service technician will be at your door to help.
Do Not Wait
A refrigerator keeps food unspoiled by lowering the temperature so it happens more slowly. It distributes the cold air from a set of coils which creates a temperature at freezing in the freezer. In the other portions of the refrigerator the air temperature becomes slightly warmer. This helps food stay fresh longer. A refrigerator beginning to have issues one of the signs lists as the food not being at an appropriate temperature. This increases the chance that food will spoil. Even cooking spoiled food will sometimes cause an illness in family. More than an inconvenience it lists as a health issue as well.
Try a Check-Up
Rather than wait why not schedule a visit with Sub-Zero Service Masters Appliance technicians. They can check the elements, intriguing sounds, coils, and temperature of the unit. They can perform any minor maintenance on the refrigerator ensuring maximum life of the appliance. Sub-Zero does much more than refrigerators. We are glad to give an estimate for the work needed.
Consider This
More recent appliances often have better energy savings. Having your refrigerator maintained regularly means the best energy savings possible for the technology of that time. Also since technician's service all brands they can tell you the possible replacement parts costs versus getting a new refrigerator. That helps families plan and make easy budget decisions. Friendly, fast service by expert technicians in your local area works best for most family's needs.
Contact Us:
Phone: (310) 477-0670
Phone: (888) 657-1763
Business Hours:
Monday – Friday 7AM – 7PM
Saturday 7AM – 3PM
Sunday 7AM – 3PM