Sub-Zero Freezer & Refrigerator Repair

Sub-zero Appliance Repair in Westwood, 90024
You rely heavily on your Sub-Zero refrigerator in Westwood to keep your food fresh and cold. If some small problem arises, such as the light bulb burning out inside one of the compartments of the fridge, you can normally resolve it yourself; just change the bulb. However, if your food is not being kept at the right temperature, or any other major failure occurs, you can rely on Service Masters Appliance to perform an expert and timely refrigerator repair.
Subzero Maintenance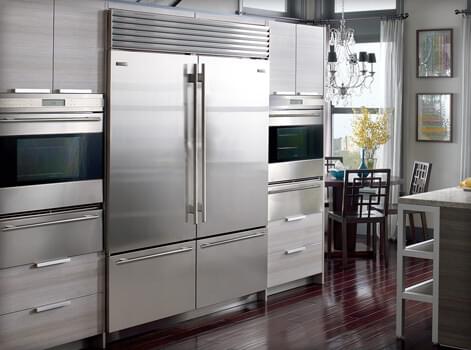 Sub-Zero refrigerators are complex machines that rarely fail. When they do, there are a couple of things you can check before calling our repair service. First of all, make sure the electrical plug to the unit is still plugged into a working power outlet. It may have somehow become disconnected or the outlet may not be receiving power. If your fridge is not receiving electrical power, be sure to check your circuit breakers or fuses. Once you have checked to make sure there is not external reason for the unit not be running, that is when you will want to give us a call.
It may also happen that your refrigerator is operating, but is no longer keeping your food cold. Sometimes another similar failure happens, when the unit's internal temperature cycles from warm and then cold over and over in a relatively quick cycle. Our professional repair technicians will come to your home or business and will quickly determine what the problem is and how it can be fixed. Our people are so good, that when customers have immediate need for refrigeration, they will often be able to repair the unit right there, making it working and available for whatever your needs are.
All our technicians are licensed, bonded, and insured to install and repair all Sub-Zero appliances. Many times, a refrigerator will be covered for repairs through the manufacturer's warranty. If your fridge must be hauled into a repair shop and you have an imminent need for a working unit, we can sometimes provide a temporary substitute for you until we can return your fridge in full working order. For service on any of your appliances, give Service Masters Appliance a call at 310-477-0670. We do commercial and residential refrigerator repair in 90024, Westwood.
Contact Us:
Phone: (310) 477-0670
Phone: (888) 657-1763
Business Hours:
Monday – Friday 7AM – 7PM
Saturday 7AM – 3PM
Sunday 7AM – 3PM