Samsung Washer Repair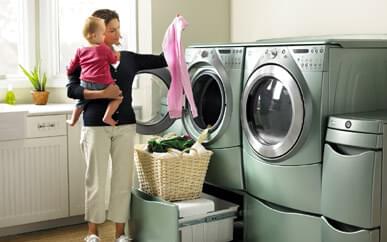 Los Angeles Samsung Washer Repair Service
People love to keep clean, and that's how the idea of using washers came about in the first place. A washer makes the job easier and faster. While it feels good to own and enjoy the advantages of using a washer, life is smoother when you know your machine is properly working. Of course these kinds of appliances do break down at times, but what you do when it breaks down determines your future cleanliness. You don't want to wake up one Monday morning to find that your best business suit has been ruined by a faulty washer.
For this reason, you need to get your washer repaired. Furthermore, you need it repaired by the best samsung washer repair los angeles. In Los Angeles, an entity called Service Masters exists solely to eliminate all your miseries as far your washer is concerned. These are the people who can actually fix your machine better than anyone within the US. This company operates within many major cities within Los Angeles and its environs. These include Burbank, Sherman oaks, Encino, Studio City, Van Nuys, Malibu, North Hollywood, Culver City and many more.
Service Masters is your best choice for many reasons. When you choose Service Masters, you choose quality. You get access to the best repair services done by the most qualified and professional experts around. Also, the repair parts used are ordered from the factory to ensure their quality.
The goodness of this entity goes deeper. Service Masters offers you free cost estimation. To keep your smile wider, the experts go ahead and cut the cost by 15% by the time the job is done. That gives you a good reason to believe in this company. Service Masters helps you save your money in as many ways as possible, including offering you the cheapest repair services in the market.
When you choose this company for your Samsung washer repair los angeles, you are sure to avoid any hidden costs that might fatten your bill. All your queries are responded to adequately and with a guarantee that your job is done fast and most satisfactorily.
Everyone craves quality services, and Service Masters offers just that. Be sure to visit https://www.servicemastersappliance.com/ and call the experts to get your washer back up and well-running.