Sub-Zero Freezer & Refrigerator Repair San Fernando Valley

The Best Sub Zero Refrigerator Repair in San Fernando Valley To Hire
A fridge can malfunction due to many factors including the normal wear and tear and poor maintenance. Now, during the summer you are likely to experience more problems with your Sub Zero refrigerator than during other seasons. This is because it is the time that people prefer taking a lot of cold drinks and thus, you will have to keep refilling your fridge with new beverages. By so doing, you will be overworking your fridge, which can make your equipment to break down prematurely. If you have a malfunctioned fridge, Sub Zero Refrigerator Repair San Fernando Valley provides you with maintenance and repair services that will restore your equipment to a tiptop condition.
When you need a Sub Zero refrigerator maintenance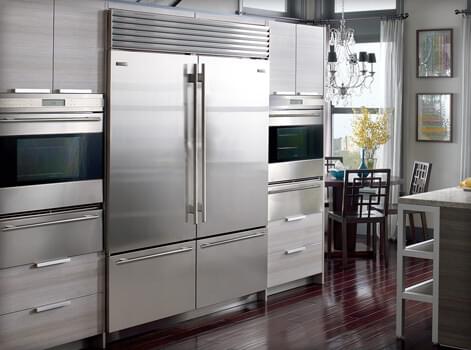 Homeowners should know when their refrigerators are not working as they should. If not well maintained, small faults can cause your fridge to fail completely. So, it makes lots of sense to handle problems with your equipment as soon as you detect them. However, you cannot fix what you don't know or are not aware of. There are signs that homeowners can look out for to know when they need refrigerator repair, and they are:
If you notice that the food is spoiling quickly, it may be a sign that the equipment isn't working properly.
Strange noises coming out of your refrigerator are a sign of a malfunctioned fridge and that it needs to be checked by a certified and qualified technician. However, you will know how serious the problem is depending on the type of the noise your equipment is producing. For instance, unusual sounds like squealing or banging could indicate a serious problem. Never ignore noises because they are a great way of telling you that there is something wrong with your appliance. In most cases, noises are a result of mechanical parts wearing each other. Loose moving parts that are knocking against each other could also cause a banging noise. Contact a repair technician to inspect the refrigerator and offer the right solution to the problem at hand.
A refrigerator is designed to run in such a way that when it attains certain temperature, it will switch off. Now, if your fridge runs continuously without stopping, it means that one of its components has failed. So, to save on electric or gas bills, it is important that you have checked and fixed.
Our Sub Zero refrigerator repair service
Service Masters Appliance is your ultimate companion in solving Sub Zero refrigerator repair problems. We serve clients West LA and Glendale, Burbank, North Hollywood, Van Nuys, Sherman Oaks, Studio City, Encino, Tarzana, Reseda, Northridge, North Hills, Granada Hills, Porter Ranch, Chatsworth, West Hills, Woodland Hills, Calabasas, Hidden Hills and the surrounding. Our technicians are certified, high trained, friendly and trusted. Call us today and schedule an appointment with a Service Masters technician for quality Sub Zero refrigerator repair.
Contact Us:
14011 Ventura Blvd. # 212 W
Sherman Oaks, CA 91423
Phone: (818) 853-9954
Phone: (888)-657-1763
Service Masters Appliance
Average rating:
2 reviews
Feb 2, 2017
Subzero Freezer Repair
Called these guys to fix my SubZero freezer, and within an hour mechanic was there with parts on truck to finish the job on the first trip. Thank you Service Masters
Thank you for taking your time to write us a review.
Aug 25, 2016
Sub-Zero Repair
Thank you, Service Masters, and especially Kevin, for being the most efficient, prompt, reliable and knowledgeable repair company I have EVER done business with. First, I had a problem with my Sub Zero refrigerator. Kevin diagnosed the problem and took care of it. When I had a second different problem, they took care of that as well. I never felt like I was taken advantage of. Their honesty is impeccable. So now when my AC unit went out, this was the only call I made. They are the BEST.
Thank you for your kind words.