Sub-Zero Freezer & Refrigerator Repair

Sub-Zero Appliance Repair in Los Angeles
Sub zero refrigerators are state of the art appliances that are on an upward trend. Nevertheless, they are difficult to repair due to the sheer amount of parts and configurations involved. At Service Masters Appliance, we will go to your home and fix your sub zero refrigerator for you. With years of experience in the industry, we are familiar with common issues regarding these appliances. Our teams of two and three workers provide enough assistance to power through these arduous tasks. We have all the necessary tools to operate on the interior and exterior of your refrigerator, and if there are any lingering problems, we will return within a short time frame for a checkup. Because sub zero refrigerators are so powerful, repairs require more precision than a normal refrigerator. Fortunately, our professional representatives are well versed in all the major names and brands. Our training consists of a multistage process to familiarize our workers with essential information. When we arrive at your home, the first step is to identify the type of appliance. Once this initial screening is done, we will be able to proceed appropriately.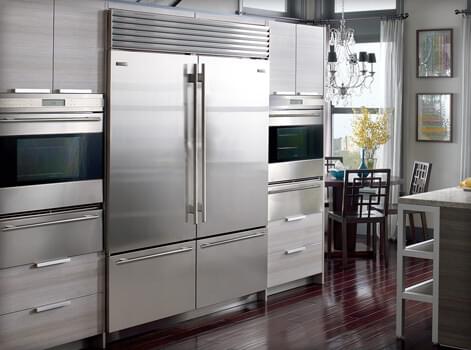 We are also capable of handling sub zero freezer repairs. Freezers tend to be smaller in nature, so these projects can be completed within a few hours. Once again, our staff is familiar with the intricacies of freezers and common issues along the way. In recent feedback reports, nearly all of our clients have been satisfied with our repair jobs. In addition, we have met the standards of major inspection companies. You can rest assured that our repairs are of the highest quality and accessible for all homeowners. With such a strong reputation and history, Service Masters Appliance truly is one of the best repair services in the region. For large scale projects, we use additional tools and operations to ensure that your sub zero refrigerator stays intact. If you have multiple appliances in need of inspection, we can simultaneously handle them in the same request. Our expertise leaves no untouched when it comes to sub zero freezer and refrigerator repairs. With numerous certifications over the past few years, there is no doubt that our services are reliable and effective.
Cities We Service Sub-Zero Appliances: Los Feliz, Eagle Rock, Silverlake, Griffith Park, Hollywood, West Hollywood and Hollywood Hills.
Contact Us:
Phone: 323-992-0392
Business Hours:
Monday – Friday 7AM – 7PM
Saturday 7AM – 3PM
Sunday 7AM – 3PM