Sub-Zero Freezer & Refrigerator Repair

Sub-zero Appliance Repair in Los Feliz
A broken refrigerator can make your day absolute misery. It can prevent you from preparing and enjoying meals in the comfort of your own home. It can often lead to premature food spoilage and wasted money, too. Refrigerators that aren't working correctly can sometimes even be loud nuisances. That's why it's so critical to look for a local company that specializes in high-quality professional appliance repair services. If you're looking for a reputable business that focuses on Sub-Zero refrigerator repair service in Los Feliz, California, it's your lucky day. We're that appliance repair company. We can provide you with in-depth and effective Sub-Zero refrigerator repair work that can help you forget you ever had a problem in the first place. Our technicians are seasoned and trained technicians who are more than familiar with refrigerators that are made by Sub-Zero. They've serviced and fixed Sub-Zero appliances of all types throughout the years. It doesn't matter what type of Sub-Zero refrigerator you own, either. Our team members can fix them all. If you have a built-in Sub-Zero fridge that's making a lot of unusual sounds, our technicians can turn the frustrating situation around for you without a problem.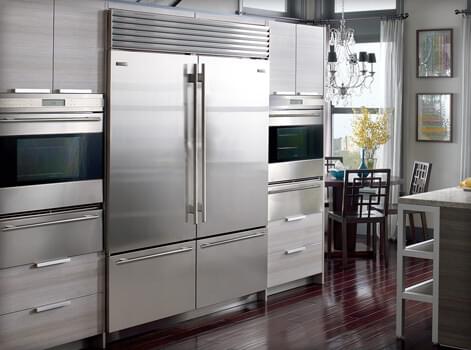 Service Masters Appliance is a firm that has a great reputation in Los Feliz and in surrounding communities. We've been providing Los Feliz residents with A+ Sub-Zero refrigerator service for a while now. You should get in contact with our business any time you notice anything unusual with your appliance. If your refrigerator is broken and requires repair work, you may observe numerous signs. You may see pools of water below your refrigerator. Your refrigerator may have a problem cooling properly. You may see pools of water inside of it. It may be unusually noisy as well.
If you're searching for appliance repair technicians who are 100 percent familiar with Sub-Zero refrigerators, you should give Service Masters Appliance a phone call as soon as possible. We can provide you with the most comprehensive Sub-Zero refrigerator service in all of Los Feliz. Call us at 323-992-0392 as soon as possible to schedule an appointment for our quality work. We care about customer satisfaction.
Contact Us:
Phone: 323-992-0392
Business Hours:
Monday – Friday 7AM – 7PM
Saturday 7AM – 3PM
Sunday 7AM – 3PM