Sub-Zero Freezer Appliance Repair

Sub-Zero Appliance Repair in Los Angeles
When your Sub Zero freezer or refrigerator stops working, we get busy. Our appliance repair professionals evaluate the freezer, diagnose the trouble, and make the repair quickly, eliminating the time you're without your freezer. When you call us, we'll come to your home the same-day, reducing stress and hassle, too. Get your free estimate, and learn why so many Los Angeles residents call us for Sub Zero freezer repair. Our professional appliance repair technicians specialize in Sub Zero freezer repair. They'll take care of any problem that you are experiencing with your freezer, whether the unit isn't freezing foods properly, is leaking water, or is warm instead of cold. We repair all Sub Zero freezer problems, small and large.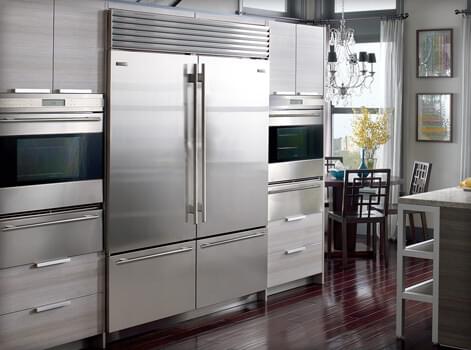 Repairing your Sub Zero freezer ensures you're not without your appliance any longer than necessary. Repair also saves money, since we all know that purchasing a new freezer can easily cost hundreds to thousands of dollars. Our affordable Los Angeles freezer repair service gets your repairs made quickly, and at the best prices in town. Why toss out a freezer with plenty of life left in it when a simple repair is all you need? Our appliance repair professionals ensure that you get the most from your Sub Zero freezer, no matter what type of problems come your way.
Service Repair Appliance is just one phone call away, ready to provide you a free estimate and quickly make your repair. We'll come to your home the same-day as you call, working quickly but efficiently to get your repair made. We understand that being without your freezer any longer than necessary is the last thing you want to happen. We don't stop until your repair is complete! If you're looking for a friendly, professional appliance repair company in Los Angeles that specializes in Sub Zero freezer repair, call us now at 626-381-9899. We serve the entire Los Angeles area with our superb Sub Zero freezer repair, and would love to add your name to our list of satisfied customers.
Cities We Service Sub-Zero Appliances: Los Feliz, Eagle Rock, Silverlake, Griffith Park, Hollywood, West Hollywood and Hollywood Hills.
Contact Us:
Phone: (310) 477-0670
Phone: (888) 657-1763
Business Hours:
Monday – Friday 7AM – 7PM
Saturday 7AM – 3PM
Sunday 7AM – 3PM